Chevy MyWay Virtual Showroom
Chevy MyWay Virtual Showroom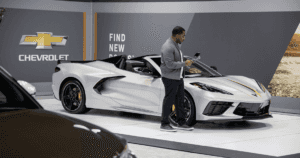 Chevy MyWay is a virtual one on one shopping experience with a unique specialist to answer any questions you may have about Chevrolet vehicles.  At first some of us at the dealership were skeptical and wanted to understand what Chevy meant by a one on one virtual experience.  Let us tell you, it's exactly like it sounds!
Once you are connected, you are greeted by a Chevy MyWay model specialist.  It's just like a FaceTime call that you would make with someone you know.  The specialist greets you and makes sure you can see and hear them loud and clear.  Once you give them the okay, they ask what brought you into the virtual showroom.
If you are in the market for a Chevy Bolt EV as we were, then you simply state the vehicle you're interested in and they bring you over to the 3 models they have on their showroom floor.  From there, you can ask any question you want!  We found out some interesting things about the Bolt EUV.  For example, did you know you can use multiple types of outlets to charge your EV in different amounts of time?  The Chevy MyWay rep went over all the details for us!
How Do You Use the Chevrolet MyWay Virtual Showroom?
Your first step in using the Chevrolet MyWay Virtual Showroom, is to go to their website by clicking here.  You'll see a video playing in the main banner that displays what the virtual tour looks like before you enter it.  In order to view the virtual tour, you will need to use either your computer or smart phone.  You may also use a tablet if you choose.
If you scroll down slightly, you'll see a, "Join Tour" button.  Click on that button.  If you are ready to join the tour now, you can also skip ahead and click here now.
Once you click on the link above, you will be waiting in the lounge for your turn.  It will display the time remaining until it's your turn.  Once your time is up, you are ready to go live with a Chevy Specialist!
Chevy Virtual Group Tour
Do you want to do a group tour with multiple people?  Well, the good news is Chevy already thought of that!  You can schedule your group tour here.  This is a great way to have multiple people in the tour to experience what Chevy has to offer with its latest model line-up.
What Vehicles Are In the Virtual Showroom?
Below is a full list of current vehicles on the showroom virtual showroom floor.  These vehicles will be updated with newer Chevy models as time goes on.
List of vehicles in Chevy's MyWay Tour:
2021 Chevrolet Camaro
2021 Chevrolet Bolt EV
2021 Chevrolet Blazer
2021 Chevrolet Tahoe
2021 Chevrolet Trailblazer
2021 Chevrolet Corvette Convertible
2021 Chevrolet Corvette Coupe
2021 Chevrolet Equinox
2021 Chevrolet Suburban
2021 Chevrolet Silverado 1500
2021 Chevrolet Silverado 2500HD
2021 Chevrolet Traverse
2021 Chevrolet Colorado
If you are interested in stopping into our dealership instead of a virtual tour, please view our inventory or give us a call and let us know what car to sanitize and have ready for you to view in person!